10+ Free Crochet Poncho Patterns for Autumn- 2021
Does autumn sometimes confuse you what to crochet? I think light and airy wearables are my favorites, so I've put together 15+ free crochet poncho patterns for you to preview and have links to make your own! Keep scrolling to see these easy crochet projects I've picked for you! Links are included in the descriptions of the free crochet patterns!
Crochet Rectangle Poncho
Today Sarah from Stitch and Hound is here with her free rectangular poncho crochet pattern! You can see many of Sarah's crochet patterns on her Stitch and the Hound blog. Check out social media too: Facebook, Instagram and Pinterest. Sarah take it!
Materials:
Lion Brand Amazing Lace (Weight: 1/superfine – 1017 Yds, 5.3 oz)
Doily White (#213-145) – 4 balls
U.S 7 (4.5 mm) crochet hook (This is not a common US size, so try an H (5mm) hook if necessary and just be sure to check your gauge.)
Yarn needle
Scissors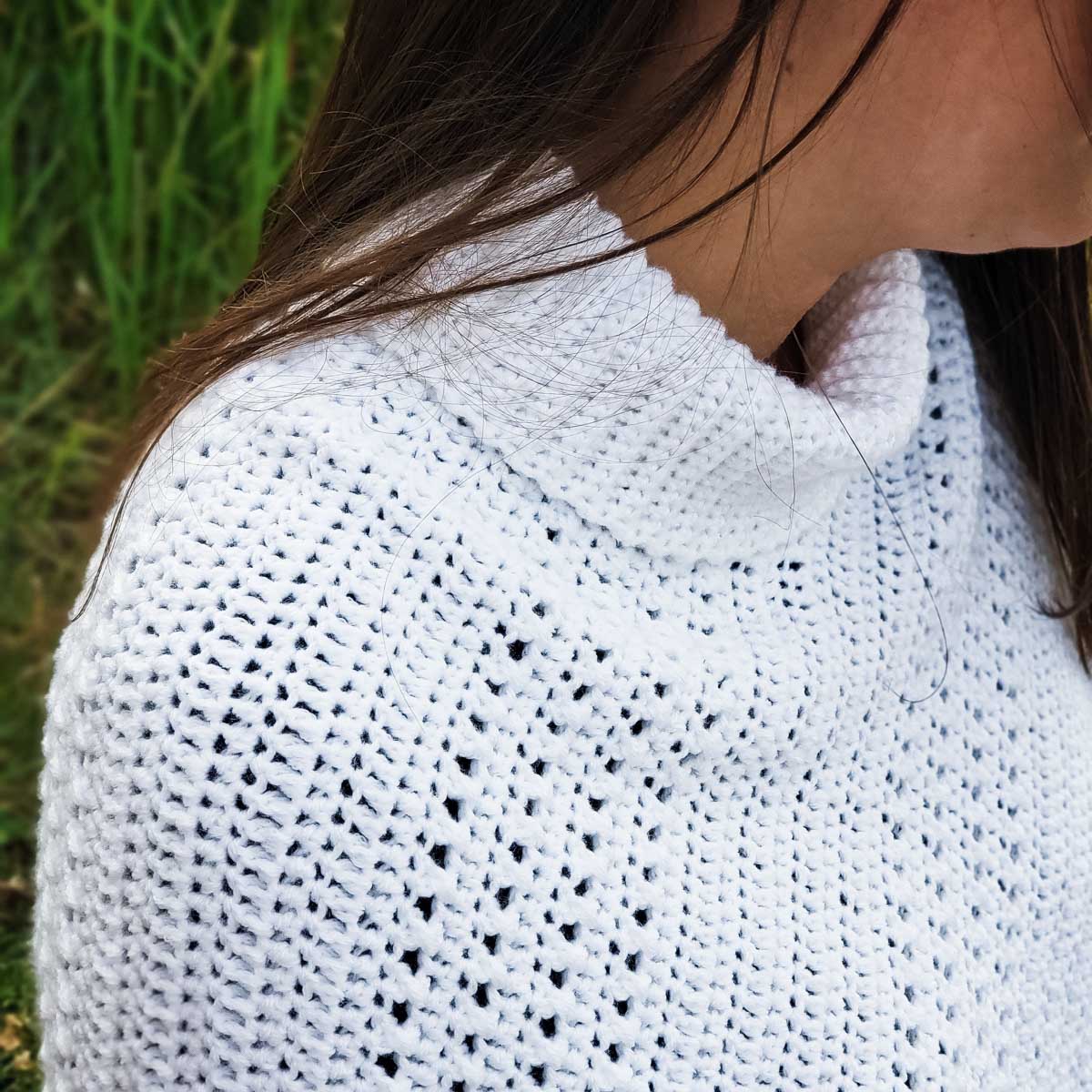 Beacon Street Poncho Crochet Pattern
Materials:
9 skeins – Lion Brand Yarn Jeans
Hook sizes: I(5.50mm) for the panels and J(6mm) for the cowl
Stitch makers
Darning needle
slant stitch – Ch 3 (counts as first dc), turn; dc in next sc *sk st, dc in next 3 st, YO, insert hook in skipped st, pull up a loop even with the hook, YO and draw through 2 loops on hook twice*
Gauge (4×4 swatch):
Panel: Hook I-9(5.50mm) Stitch: Slant stitch and sc
ch 19
sc in 2nd ch from hook, sc across (18st)
Use rows 2 and 3 from the pattern to create swatch (rows with slant stitch will not end with 2 dc for the swatch) total of 5 rows each
Cowl: Hook J-10(6mm) Stitch: dc and hdc
ch 16
sc in 2nd ch from hook, sc across (15)
Use rows 2 and 3 from the pattern to create swatch for total of 4 rows each
Measurements:
Panels: 35″ W x 28″ L
Cowl: 12″ W x 6″ L about 24″ in diameter
Panel (make 2):
Ch 141
Row 1: SC in first ch from the hook, SC 140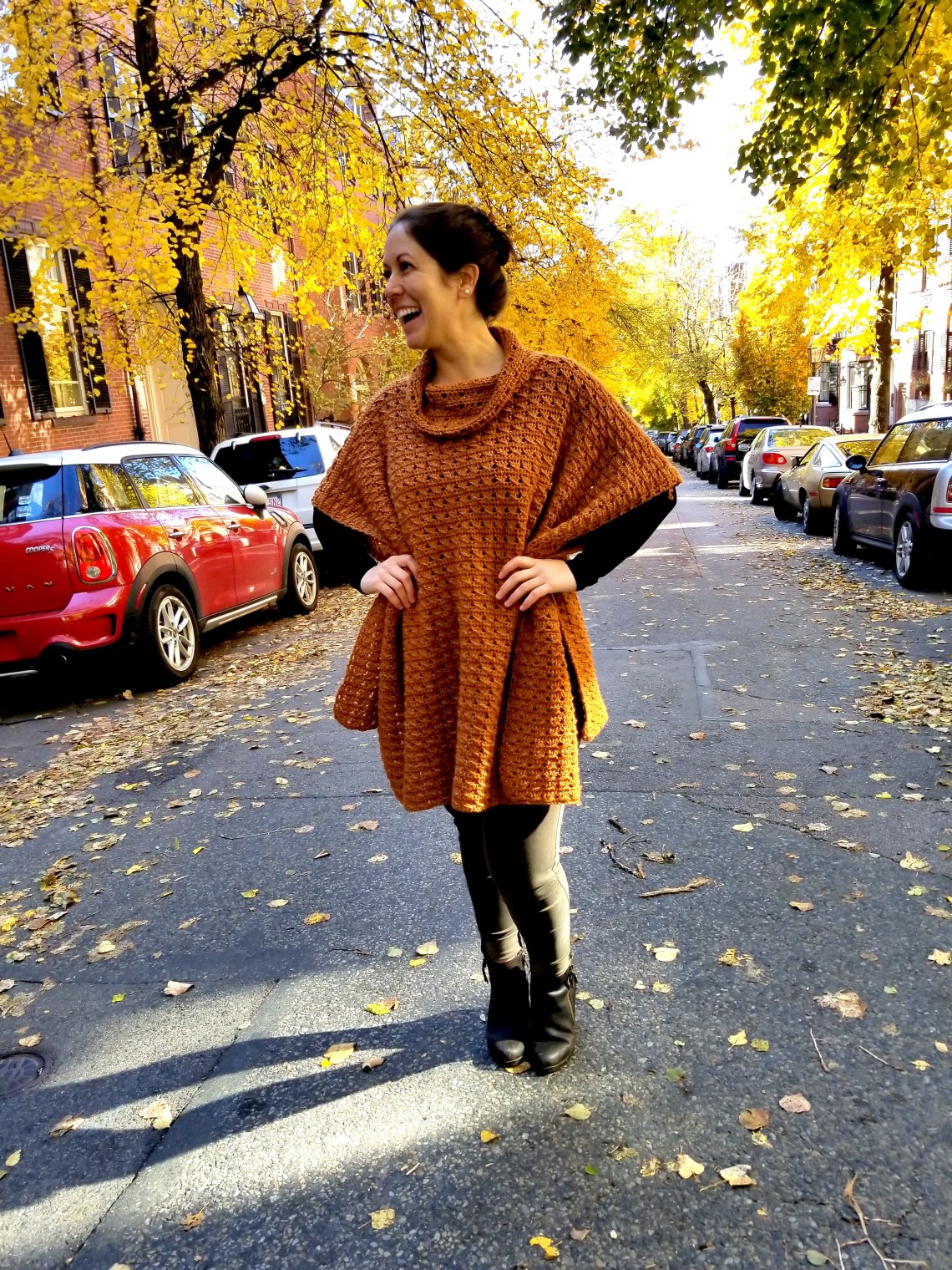 Written in the Stars Crochet Pattern
Materials:
7 balls of Jeans Yarn (Vintage)
Size US I-9(5.50mm) hook
5" rectangle to
make fringe, darning needle
stitch markers
scissors
Sizes: One Size Only
Gauge: 5 x 2
ch 21 Rows 1-4 of pattern
Finished Poncho Measurements: 51W x 18L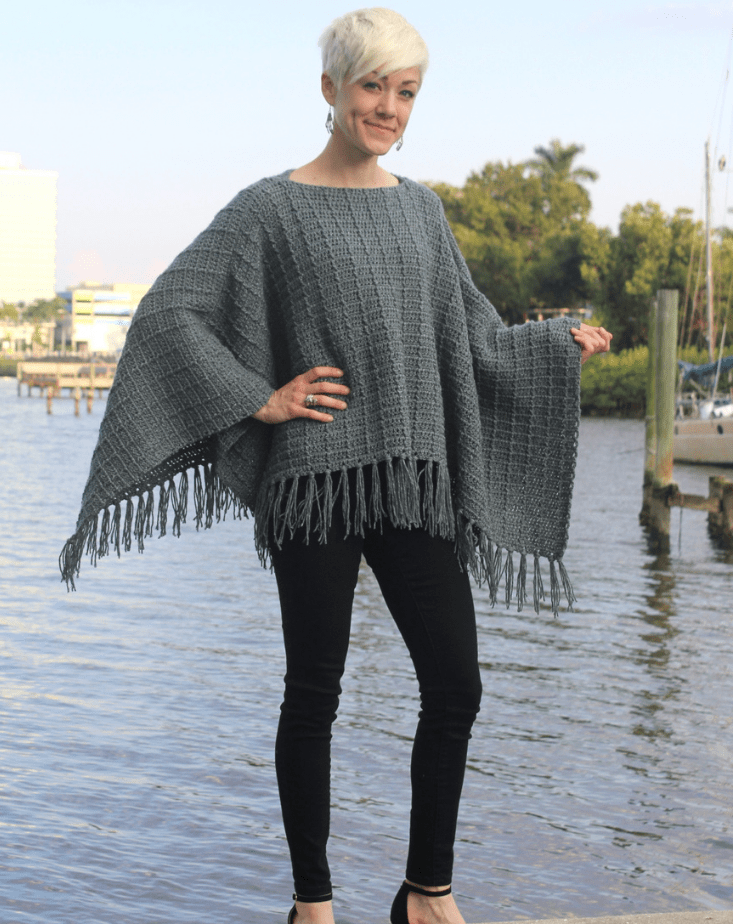 Cross Country Poncho Pattern
Two of Wands' cross country ponchos are simple yet detailed! You can do it yourself with this free crochet poncho pattern on your website! With simple crochet stitches and careful placement of the chain stitches, this poncho is stunning!
Materials:
6 skeins Lion Brand LB Collection Superwash Merino in Hemp or approx. 1836yds/1680m of another DK weight, cat. 3 yarn
Size US J/10 (6mm) crochet hook
Tapestry needle
Sizes:
Width: 40"/102cm
Back Length: 32"/81cm
Front Length: 28"/71cm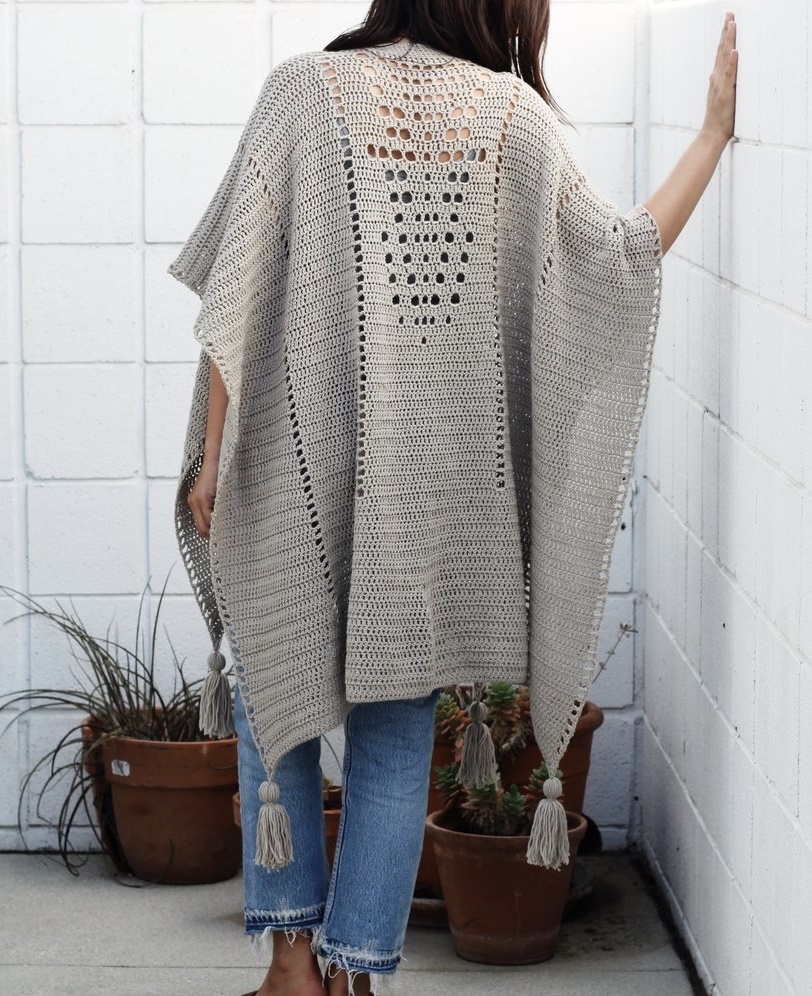 Polcinigo Crochet Poncho Pattern
Notes:
– The poncho is made in four pieces: front panel, back panel, hood, and hood ribbing.
– After all the pieces are complete, the items are blocked and then seamed together.
– Panels are worked top down.
– Optional finishing touches include the i-cord drawstring and tassels.
– The pattern is a stitch multiple of 8+1. If you want the items to be wider, you can do so by creating foundation single crochets in multiples of eight, then add one more before creating the turning chain.
– Turn at the end of each row.
– Turning chains do not count as stitches.
– Row count is listed at the end of each row.
– Stitches between *asterisks* are repeated across the row.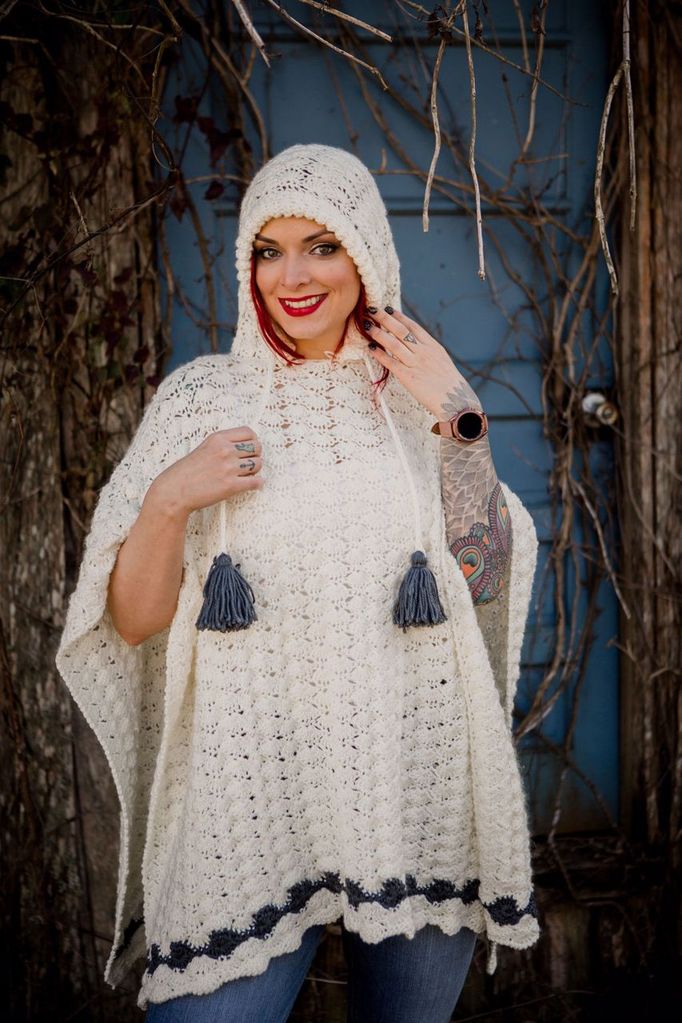 Easiest Crochet Poncho Pattern
Materials:
460 yards of super bulky (6) weight yarn.
I used Lion Brand Hometown USA (4 oz (113 g) , 64 yds (59 m), 100% acrylic) in the Little Rock Granite colorway.
Crochet hook US size P (11.50 mm)
Tapestry needle
Tape measure
Scissors
Notes:
Read through the pattern before beginning to ensure you don't have any questions that might cause frustration in the midst of your project.
Skill Level: Easy
US Terminology
When there is a CH-2 at the beginning of a row/round, it IS counted as a stitch.
To increase the width, work starting chain in multiples of 6 + 1.
One size fits most. Finished measurements before seaming are 54″ x 18″.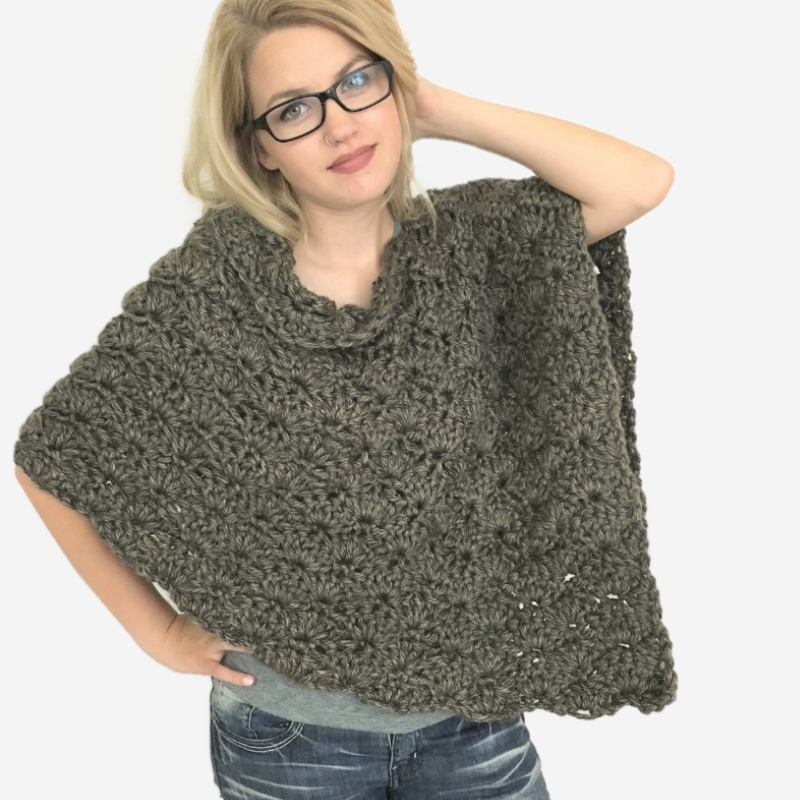 Easy Crochet Tweed Poncho Pattern
Materials:
Lion Brand Mandala Tweed Stripes, color Wish Bone, Weight 4/Medium – 6 (7, 8) 2200 (2500, 3000 yards)
Crochet hook size H/8 (5.0 mm)
Scissors
Tapestry Needle
Stitch Markers
Approximate finished size:
XS/M = 36" width x 29" length
L/1X = 38" width x 32" length
2X/5X = 40" width x 35" length
Gauge: 8 dc rows x 14 dc st = 4" x 4"
Abbreviations:
ch(s) = chain(s)
dc = double crochet
sk = skip(ped)
st = stitch
sc = single crochet
sl st = slip stitch
RS = right side
WS = wrong side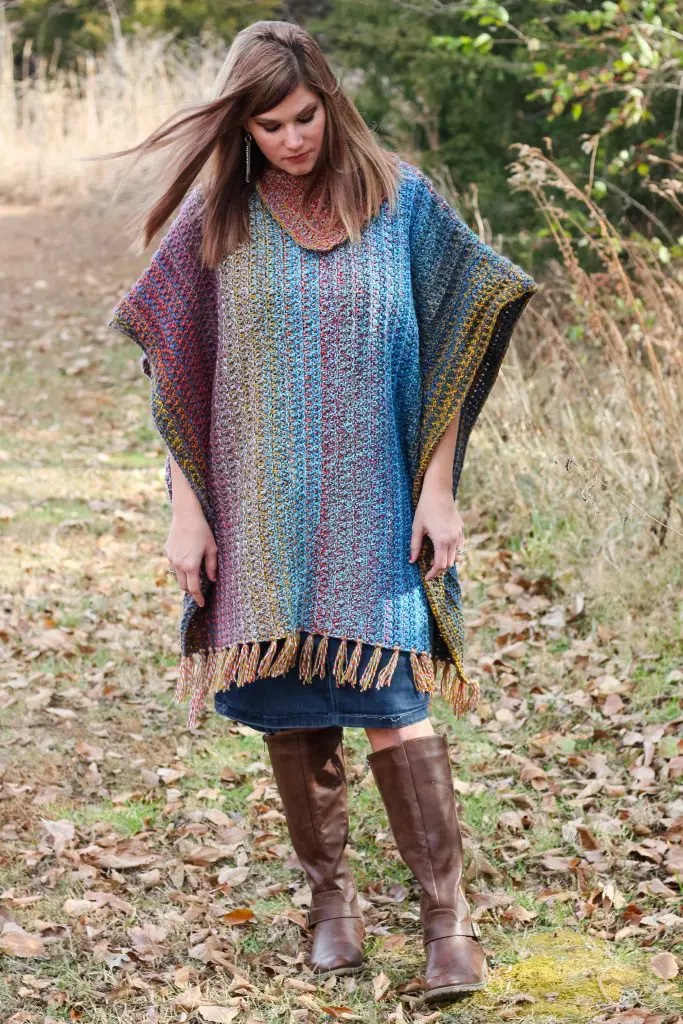 Free Tunisian Crochet Poncho Pattern
Are you looking for a free Tunisian crochet poncho pattern that is suitable for beginners but still interesting enough for someone who is knowledgeable about Tunisian crochet? Then check out today's model from guest exhibitor Raffamusa Designs! The Misty Gray Tunisian poncho has a simple design and is a great introduction to some Tunisian crochet stitches. Details include a decorative striped hem, fringes and a hooded collar.
Materials:
Paintbox Yarns Wool Mix Aran in Kingfisher Blue (834). You will need approximately 2 balls (200 g) for sizes XS-S and M-L, and 2.5 balls (250 g) for the size XL-2XL.
Paintbox Yarns Wool Mix Aran in Misty Grey (803). You will need approximately 7 balls (700 g) for the size M-L, 6 balls for the size XS-S, and 9 balls (900 g) for the size XL-2XL.
10.0-mm (15/N USA, 000 UK) Tunisian Crochet Hook with a wire of 105 cm (41")
6.5-mm (10.5/K USA, 3 UK) Tunisian Crochet Hook with a wire of 105 cm (41")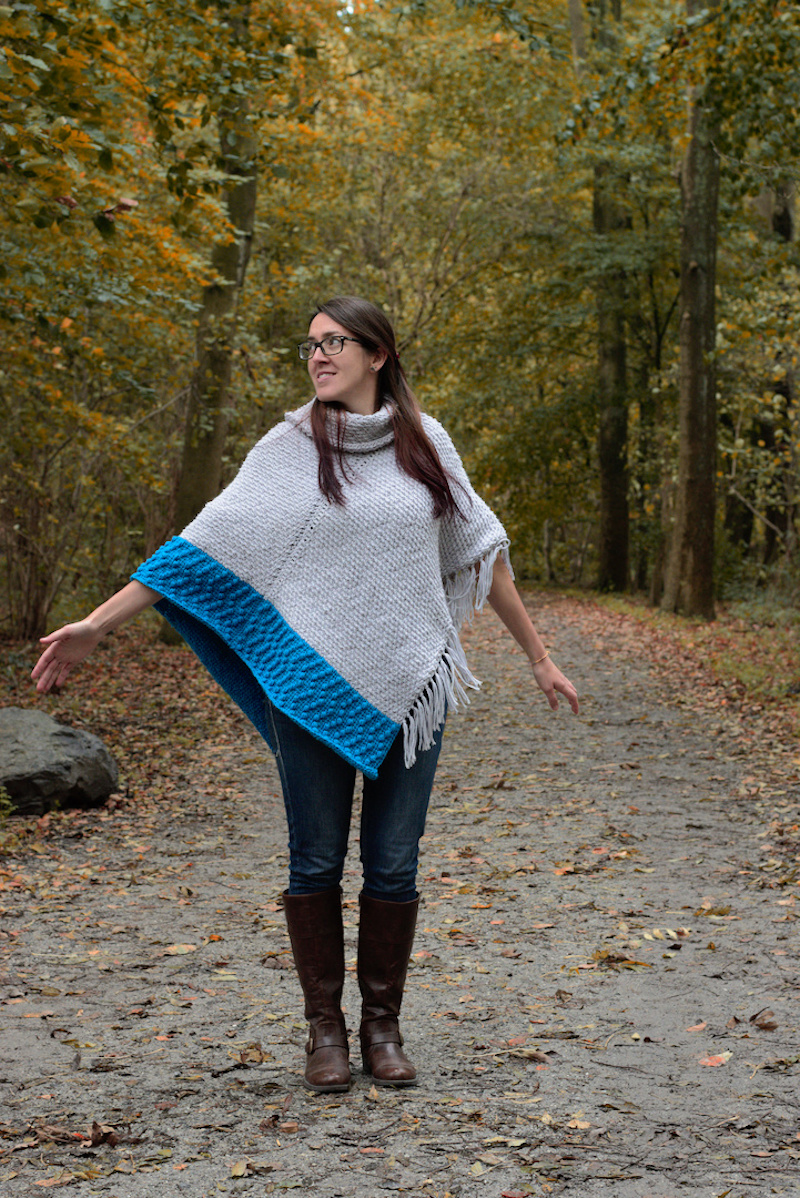 Minjia Poncho Pattern
The Minjia poncho is the classic poncho of all time.
It has a simple little design detail on the front and back.
The size is not critical and the pattern can be adapted to different thread counts (min, aran …) and different sizes for adults, teenagers and girls.
A collar is a great simple beginner project to start with a hoodie or turtleneck.
Co = 5 M + odd M + 5 M + odd M = even M (… 70, 72, 74, 76, 78, 80 sec …)
My 'Minjia Poncho' pattern has two repetitions with four stitch steps every other round.
You will be knitting these two rounds of patterns until you are happy with the size of your poncho.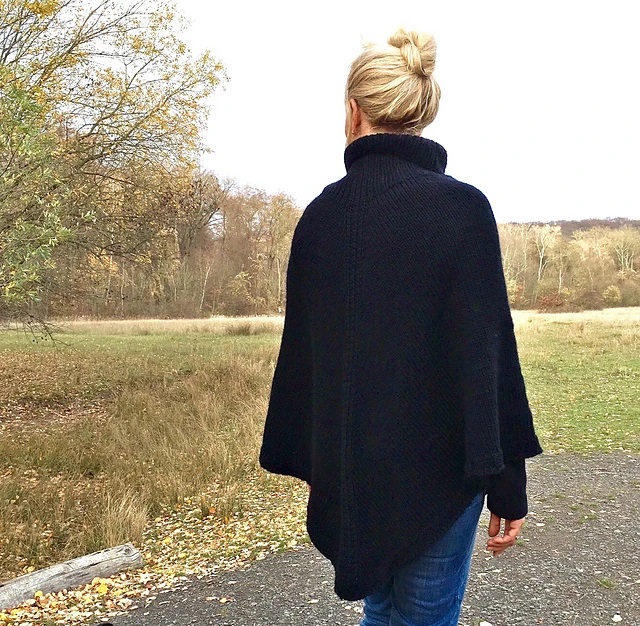 Getaway Poncho Pattern
This gorgeous poncho is a great cover-up for a crispy fall weekend getaway.
Knit a hoodie with a large garter st from top to bottom with a voluminous yarn and
A straight stitch torso is simple enough to be relaxed and quickly knitted.
Adding a simple eyelet pattern to the bottom makes it interesting.
Finished size
Hood top circumference: 32 inches (81.5 cm).
Neck circum .: 26 "(66 cm).
Lower body circumference: 64 inches (162.5 cm).
Length from hood to center front: 23 "
(58.5cm).
thread
Bulky weight (# 6 Super Bulky).
Shown here are: Berocco Peruvia Quick (100% wool;
103 yards 94 m / 3
1/2
oz 100 g): # 9152 saddle brown,
8 strands.
Needles
Size US 10
1/2
(6.5mm): 24 "(60cm) and 32" (80)
cm) circular (circle).
Adjust the needle size if necessary.
get the right size.
Concepts
Stitch marks (m); Tapestry needle.
Indicators
12 sts by 17 rows = 4 "(10 cm) sts.
12 sts and 22 rows = 10 cm garter st.
Remarks
The poncho starts at the waterfall neckline and is embroidered.
Garter st with two reduction rounds
Neck. The body is then rendered in stockinette
increasing loop through the thread,
front and back centered and finished with suspenders
Eyelets.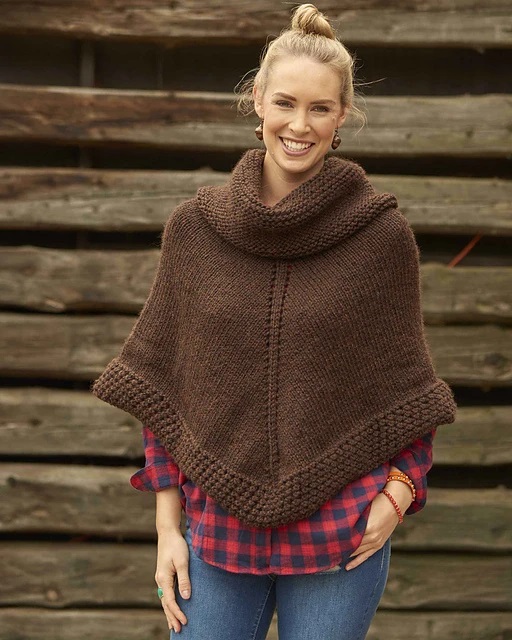 Cape Poncho Pattern
With our FILECO yarn (60% acrylic – 18% recycled acrylic – 12% recycled wool – 6% recycled polyamide – 4% different recycled fibers) this winter trendsetter is very easy to knit.
It is knitted with striped sock stitches on 50 cm long 5 mm needles.
The finished garment can be machine washed (maximum 30 ° C) and dried out of direct sunlight. Do not iron.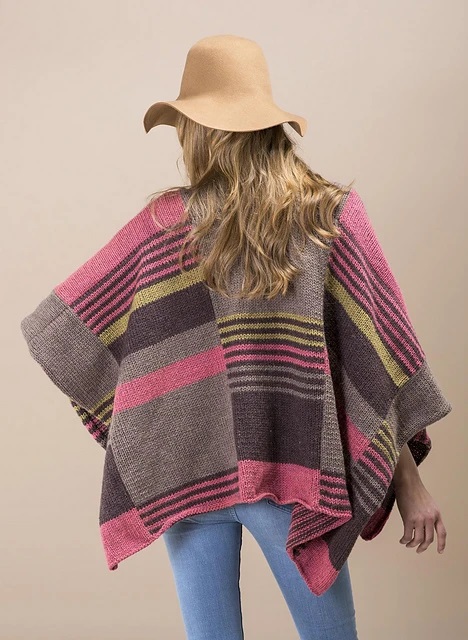 Watercolor Poncho Pattern
Every wardrobe needs a signature piece like this cozy knitted poncho. It has trendy lines and an oversized tassel belt to make you look good on the outside and feel like a blanket on the inside.
With its loose cut and open front, it can be combined with almost any top in your wardrobe. Its light texture and bold colors make it the perfect piece for everything from a photo shoot to sitting around the campfire.
Consisting of two rectangles sewn together, this model is a great entry-level model for knitters who want to start making clothes. The detailed step-by-step instructions in this printable PDF will easily walk you through this poncho knitting pattern.
Please click next or prev button for PATTERNS